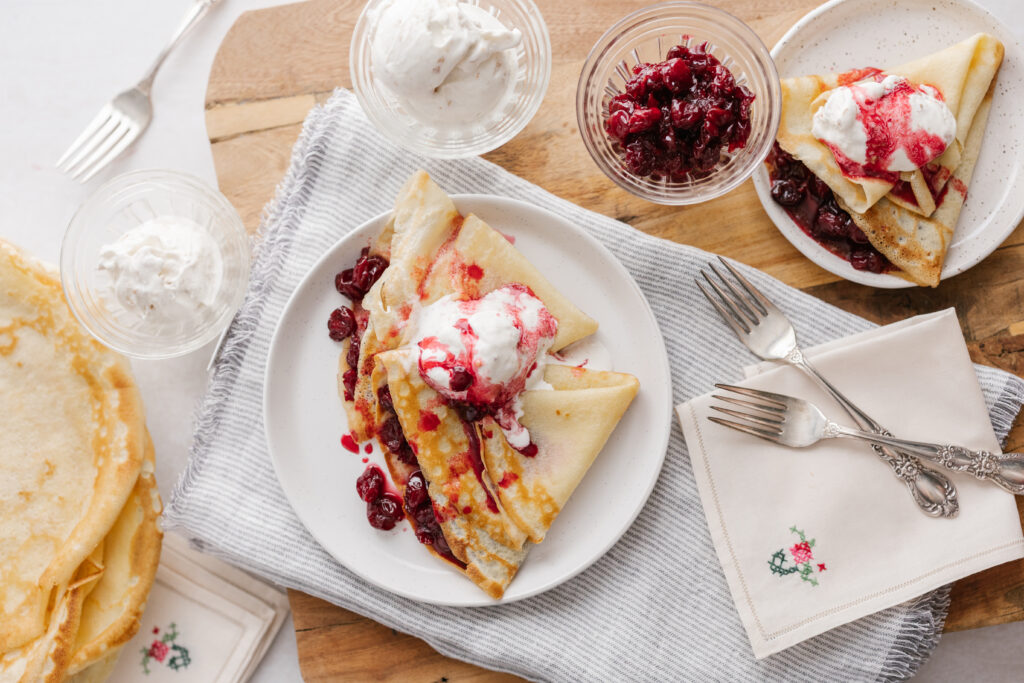 Crepes and Icewine Cherries with Brown Butter Ice Cream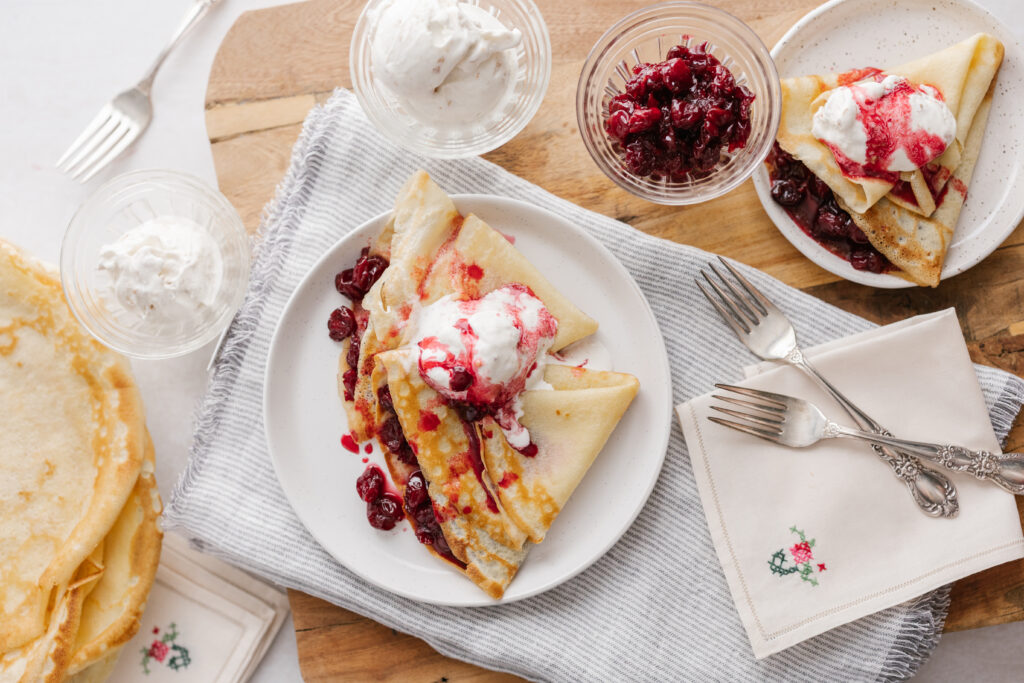 Chef Ross Midgley, Riverbend Inn
Brown Butter Ice Cream
1 L 35% cream
1 cup sugar
12 egg yolks
2 vanilla beans, split lengthwise
1/2 cup butter
In a sauce pan, heat 1/2 cup butter over medium heat. Once melted, keep swirling the pan; the butter will start to foam and you'll see the colour turn light brown. Once it has browned it will have a nutty aroma. Set aside to cool.
In a sauce pot, simmer cream with split vanilla beans. In a glass or steel bowl, whisk sugar and egg yolks to ribbon stage. Temper the warm cream into egg mixture, starting with a small splash to warm up the eggs, then adding the rest of the cream. Return to a clean, non-reactive saucepan and bring to a boil. Fold in browned butter and mix well. Strain the mixture into a bowl and chill overnight before spinning in an ice cream machine.
Icewine Marinated Cherries
4 cups sour cherries, pitted
1 375mL bottle Peller Estates Icewine
In a non-reactive pot, slowly reduce Icewine and cherries until most of the liquid is absorbed. Allow to cool. Any left-over liquid should be reserved to sauce the crepes.
Crepes
6 eggs
2 cups all purpose flour
¼ cup granulated sugar
2 tbsp butter, melted
600 ml 10% cream
50 ml Gran Marnier
Mix all ingredients and whisk to consistency. Allow crepe batter to sit over night and then make thin crepes the following day, layering between parchment paper until ready to fill with cherries.
To assemble
Lay one crepe down, fill with Icewine cherries and roll. Serve with a scoop of brown butter ice cream and cherry liquid drizzled on top.